Calls for the 2nd edition of the program are open
Young entrepreneurs with innovative company ideas – no matter how incipient the idea is – can present their project until the 1st of June. The application is made through our website, filling this form.
Given the success of the first program, we will be celebrating our 1st year anniversary as an incubator launching the 2nd edition. But first, we expect to discover plenty of projects and choose the most inspiring ones.
What is the program about?
The program takes projects in early stages and turns them into companies ready for receiving some first funding. The first 2 months are online, and we help to define and refine the project through the canvas method. It is followed by 3 months where the teams have their own workspace as they share ideas with other teams around. During the whole process, senior entrepreneurs will help and guide the candidates in every step they take. Moreover, we combine the search for business success with meditation and coaching sessions because we believe the happiness of the entrepreneur goes first. We also complete the teams and set-up the company if it is not already set. All the projects can reach up to €10 000 investment by Magis Teams.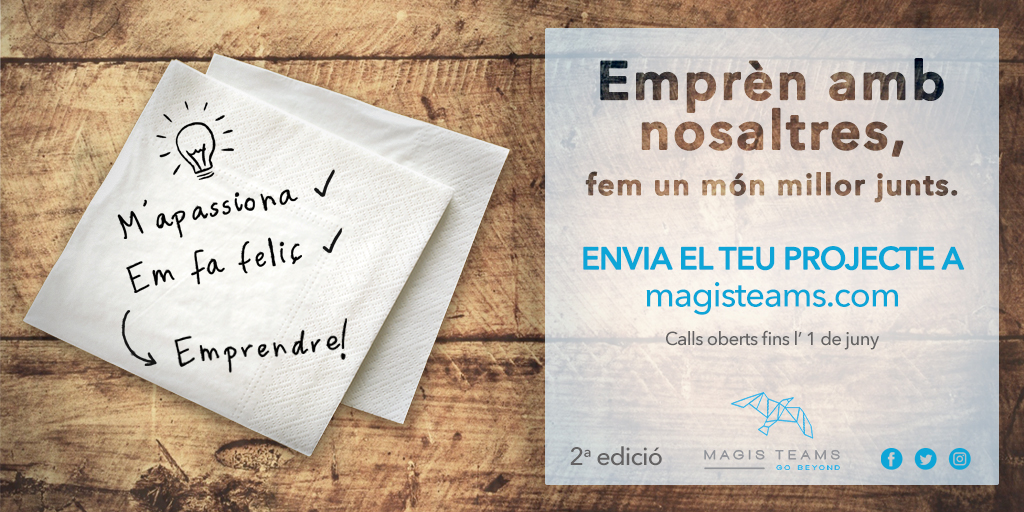 Ideas on napkins
For the 2nd edition poster, we chose to use the cliché of writing an idea on a napkin to explain the fact that we accept ideas in very early stages if they are inspiring. Also, what is written in the napkin illustrates the entrepreneurs we are looking for: passionate and happy about enterprising.
We are happy with the outcome of the first edition (we will hear soon the testimony of the entrepreneurs who have launched their companies with Magis) and we want the 2nd edition to be as profitable, and apply all the knowledge we gained in this ending first edition.