Searching the meaningful entrepreneurship: why are we enterprising?
A deep dive about the recess weekend
Two weeks ago, we spent the weekend in a spirituality center in Manresa. We looked deep within ourselves, set aside the work from the startups for two days and took some reflection time about entrepreneurship and motivation. We followed the steps from the book Meaningful Entrepreneurship, and took a deep insight into the chapters "The search for a meaning" and "Think Big".
You don't need to travel for this exercise: if you are an entrepreneur, here is some useful thinking about your project you should practice.
Search for a meaning
The first meditation exercise we did guided us towards finding a meaning to our lives and in extension, to our project.
Here are some questions you should think about while closing your eyes and forgetting the rest of the world for a moment:
Do I believe I am in this world for a purpose? What I am expected? And how does my project fit in? (or in any case, what's my purpose in this moment of my life). Or instead of a meaning, if we don't believe in it, think about being coherent with your live.
It has been a beautiful coincidence (or not) that we were in the cave wearer of the name Ignatius of Loiola, a Saint who stated:
It is necessary that we remain indifferent to all the things created and given for our free will and are not prohibited, in a way that when it's up to us […] we may desire only and choose what drives us to the purpose we are created for (EE23 Principle and i Foundation)
Think big
The previous meditation exercise could be done in one or more sessions, depending on the person. But after that moment of introspection, came an exercise that required imagination:
Imagine the biggest project of your dreams. Then, the person you admire the most. Imagine that person asks you to co-found this project. What would you sacrifice for it? What would you feel? Now compare to your project.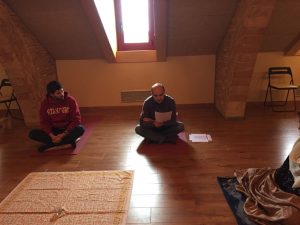 It was a very personal task, full of introspection, and each candidate had its own thoughts and conclusions about himself and its project. We believe this break in the process of creating a company is necessary to stay motivated and most of all, make sure we are happy with what we are doing.
To all the entrepreneur readers, we invite you to take these steps!